Whether it's a bachelor's thesis, a hardback journal, a graduation newspaper or even your own novel project: there are many opportunities to use the services of a bookbindery!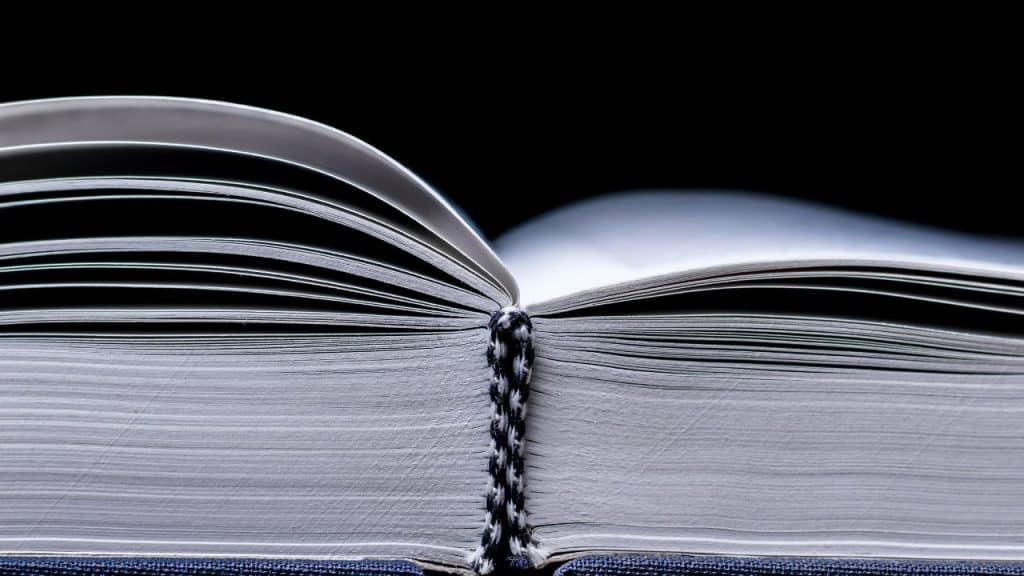 Introduction: A brief history of bookbinding
The path from the written word to the finished, bound book used to be pure manual labour. The bookbinder first had to set the text so that it could then be printed. After drying, the pages were first cut by hand into the right shape and then bound. The binding of a book thus consisted of many individual steps, but all of them were carried out by a single person.
Only a few hand tools were required. In the course of industrialisation, bookbinding was also subject to great changes. Steam bookbinding, in particular, led to more and more work steps being carried out by machines. Only now it is possible to print books in large editions and distribute them en masse. History changed the world of bookbinding.
What is the point of bookbinding?
If a printed matter is professionally bound, it immediately leaves a high-quality impression on the viewer. In addition, a book cover is more durable and – depending on the type of cover chosen – more user-friendly than a "loose-leaf collection. This applies, for example, to teaching and seminar materials, which at best are bound in such a way that they remain open on the table. Brochures, information catalogues and chronicles are also easier to handle when bound.
In many cases, it is even unavoidable to hire a bindery – for example, if you want to present your dissertation, bachelor's or master's thesis in the best possible way. Even if you like to give free rein to your creativity and write short stories or entire novels, it is advisable to have them professionally bound before you offer your work to a publisher.
Overview of the different types of binding
Once you have decided to have a book bound, you need to determine what type of binding is best for your purpose. The following is a concise overview of the most common types:
1. Hardcover with thread stitching
Hardcover thread stitching is one of the most durable types of binding. It is therefore particularly suitable for novels but also for dissertations, chronicles and commemorative publications. With this type of binding, up to four sheets (corresponding to 16 book pages) are folded in the middle and then a thread is sewn and knotted in the fold.
Ideally, the number of pages in the printed matter should be divisible by 16 – otherwise, it may be necessary to pad the work with blank pages. The block thickness should be between three and 80 millimetres for hardcover thread sewing.
2. Hardcover with perfect binding
If you choose a hard cover with perfect binding, the bookbinder glues the book block firmly to a cover made of sturdy cardboard. The PUR glue binding is exceptionally high-quality and uses a special polyurethane adhesive. This adhesive is very durable even with heavy paper – and with block thicknesses between three and 50 millimetres. To give the printed matter a particularly valuable appearance, it is possible to finish the cover with a matt or glossy film. This form of book binding is suitable for novels, dissertations, chronicles, or the school leaving certificate.
3. Soft covers or paperback book binding
Softcover binding is also known as paperback binding. It is the classic among the adhesive binding types and is already carried out by many bookbinders at reasonable prices.
And this is how it works: The bookbinder lightly mills the book block on the binding side and then presses it into the cardboard cover with hot glue. If the chosen paper is heavier than 120g/sqm, strong PUR glue is also used here.
4. Saddle stitching
If you want to bind a school or high school magazine, a brochure, a smaller books or a club magazine, saddle stitching might be the right method for you. The individual layers of pages are stapled in the middle and then folded. This type of book binding is very inexpensive and is also characterised by long durability.
However, it is preferably suitable for a smaller papers, which is why the book block should not be thicker than 4.5 millimetres. If it is important to you that you can file the printed matter after binding, it is best to choose a saddle stitch with a ring eyelet.
5. Wire comb binding
Wire comb binding is best suited for work materials that should remain open on the table. However, the block thickness is limited to 20 millimetres. The bookbinder first pre-punches the book block and then hooks it into a wire comb. A special hooking method prevents the sheets from coming loose again. A practical variant is wire comb with filing strips, which allows you to file the book block in a folder. This type is not only suitable for work materials but also for school newspapers and wall calendars.
6. Spiral binding
With spiral binding, a spiral-shaped plastic wire is twisted into the pre-cut book block papers and carefully bent in at the ends. Printed matter in spiral is very hard-wearing, but there is a slight offset of the book halves when the book is opened. Spiral is suitable for book blocks with a maximum thickness of 20 millimetres.
Book binding: Tips for choosing paper
Once you have decided on a particular type of bind, you are already a big step closer to create your book. Now you need to determine what type of paper is best for your purpose and for the way it will be used later. Plain paper may be perfectly adequate for a club magazine but not for an illustrated book or a wall calendar.
This is because the choice of paper is decisive for the visual impression of the entire printed matter. Experts recommend choosing white matt paper for novels, chronicles, brochures, manuals and graduation newspapers. For calendars and illustrated books, you should prefer white illustration paper (matt or glossy) instead. White matt paper has proven best if a printed work contains black and white content.
In this case, however, yellowish-white factory printing paper is also conceivable. If you want to have booklets or price lists bound, you will also make the right choice with matt paper – whether white or coloured is up to your personal preferences.
High quality materials create a long lasting book binding solutions. Book binding process requires practice with world class hand tooling. Our site has always a complete solution for your project.
Conclusion: Bookbinding as a fine investment
It is worthwhile to place a printed matter in the hands of an experienced bookbinder in order to hold a high-quality book in your hands afterwards. The type of binding you choose and the type of paper you select depend not only on the content of the printed matter but also on its future purpose.
Doxzoo offers high quality bindings for your handmade books, artists books, paperback book or any type of hardback book. Whether it is for business idea or gifts If you are interested please login to your account and search for options and instructions.