Even in these digital times, print products, especially flyers and company brochures, are necessary and popular to make information, promotions or generally your own company known. In this article, you will learn the 10 points you should consider in order to make your flyer as effective as possible.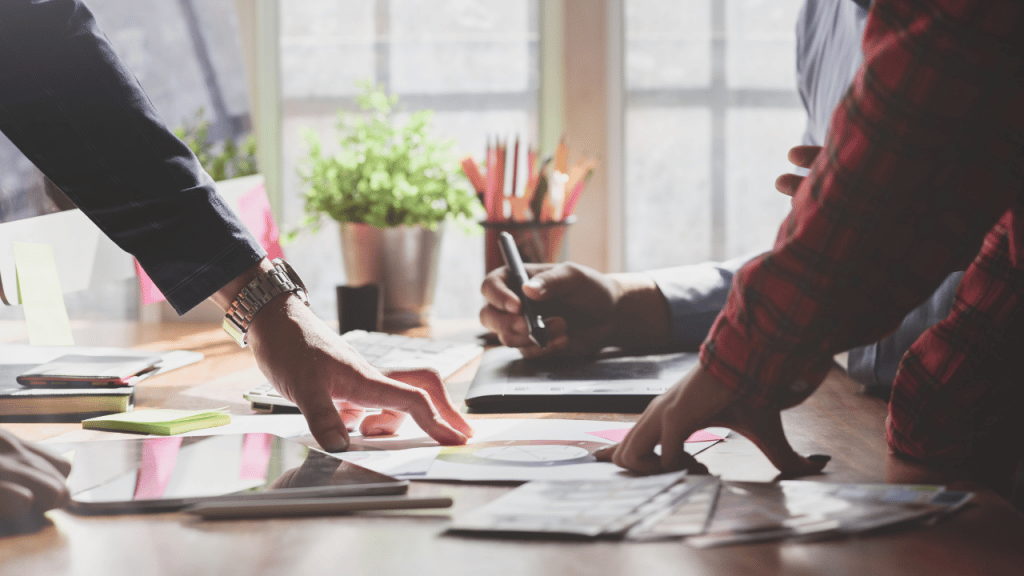 The basic rule for any flyer design
The basic rule for any flyer design should be the AIDA formula. If you have never heard of it, you can read a detailed article about the AIDA formula here.
In short: AIDA stands for Attention, Interest, Desire, and Action. You need to get the person's attention, get them interested in what you have to offer, create a desire for it and finally prompt them to take action.
The following tips have been roughly arranged according to these categories for better understanding – you will see how they follow the AIDA formula.
Attention
1. Clear, salient headline
The first hurdle to overcome is to catch the attention of the viewer. A key point here is a clear, prominent headline. The headline should catch the viewer's attention and arouse initial interest.
2. Colour that stands out
You should use a colour that stands out, not that it blends in or looks weak. Even if your product or appearance generally contains relatively calm colours (e.g. sectors such as wellness, cosmetics, etc.), you can still provide the necessary colour with a harmoniously chosen contrasting colour.
3. Choose the suitable format
An excellent way to advertise to the target audience is to distribute flyers. Here you should choose a format that is not too small. A5 is a very popular format, as it is large enough to accommodate all the information and will not easily get lost in the post.
As a general rule, don't skimp on the format. In print, it makes little difference whether the flyer is A6 or A5, and you should have enough space to accommodate all the information clearly. You can also attract more attention with slightly thicker paper (e.g. like a postcard).
Interest
4. Less is more
Above all, your flyer must be clearly laid out. Avoid too much text in the flyer design, think about exactly what information the recipient needs and limit the content to that in order to generate interest. Unclear flyers with too much text are quickly discarded. 5.
5. Graphics/images that support the message
To further capture attention and generate interest, use a graphic that supports and promotes the message of the headline.
Depending on the message, the graphic can be used to reinforce a desire for something, away from something, or identification with something. Good graphics do not have to be expensive! On platforms like Shutterstock, Adobe Stock etc., you can buy professional images for under £10.
Desire
6. Advantages, advantages, advantages
Why is your company interesting to the recipient? What advantage does he gain from your product or service? Ask yourself these and similar questions and, above all: answer them for the viewer of the mailing.
7. The offer
As part of your mailing, you should think of an appealing offer. Give the mailing recipient an incentive to get in touch with you or to decide in favour of your product or service. A time-limited offer helps keep the return flowing for a certain time.
Action
8. The most critical part: call to action
Don't forget the call to action. This would be, e.g. "Contact us now for your no obligation quote!" or similar. Even though these or similar phrases may seem trite – they are used repeatedly for a reason. Advertising without a call to action is significantly less effective.
9. Contact information
Increase the likelihood of contact by using all possible communication channels. Contact information can include phone, email, fax and/or website. You can also promote social media sites such as your Facebook Page etc.
10. QR Code
QR stands for Quick Response. Indeed you had seen a QR code before and maybe scanned it. This allows you to access websites, documents, videos etc., by scanning them with your smartphone or tablet.
QR codes look modern and professional and can add information to your flyer. Above all, however, you can use the QR code to link directly to a page on your website (landing page), on which there is, for example, an enquiry or order form, so that the person can carry out the desired action directly on the smartphone or tablet.
Conclusion
With these 10 tips, you are well prepared to design your following flyer in a promotionally effective way. We would also be happy to support you with your next flyer design. Simply contact us now for flyer printing service.