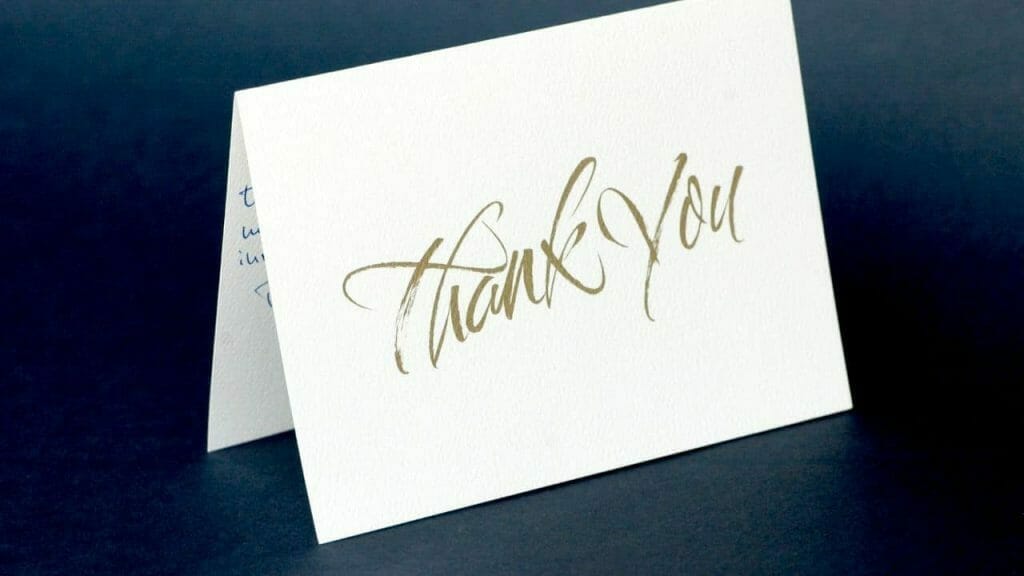 Thank you cards for your customers are a great added touch to send out with your products. Even a small gratitude card says much more than a simple thank you. They let your buyers know that you appreciate their custom and are striving to please them at all times. Your small business can consolidate its branding and marketing and ensure continued growth with one thank you card. In this post, we'll look at what makes the best thank you cards for your small business's customers and how you can start sending them out.
What is a Thank You Cards for Business?
Business cards are easy to thank your buyers for their patronage. You can choose to send them out to select customers, and it's always nice to include them in the package every time someone makes a purchase.
The card design you send to your customers don't have to be complex, but there are some things they must do. Usually, cards begin with a short message of gratitude, followed by request for any reviews or feedback you may require and ways to contact your small business, such as social media usernames.
Aside from these things, you have a lot of creative freedom when it comes to the thank you cards you send to customers. Colours, fonts, and imagery are all down to you and your brand. But, choose wisely, as even though thank you cards are small, they are sent out with each of your packages, so they are a very effective form of branding.
What are the Benefits of Sending Thank You Cards For Business?
You may not think business cards provide your customer with anything extra. They just want to get their product, right? Thank you cards turn the process of receiving and opening a product into a full experience hosted by your small business. This easily added touch brings a range of benefits, and here are just a few:
Turns Buyers into Repeat Buyers
When your customers know how much their patronage is appreciated, they'll likely purchase with you again. This is because a thank you card implies dedicated service and ease of contact should your customer want to reach out to you.
Encourages Feedback
If your small business is operating on a site such as Etsy, where reviews play into your success, a thank you card can push people to leave great feedback. But constructive criticism is always useful, and a thank you card with your contact details will up the chances that you can improve your service for everyone, based on the feedback of a few.
Strengthens Branding
A thank you card for business that is written in your voice makes your business personable, approachable, and friendly. Your brand is no longer simply a logo, and it's a connection between you and your customer. This allows buyers to create an emotional link to your products and business as a whole.
Tips for Sending the Best Business Thank You Cards…
1. Greet Your Customer by Name – Make sure to personalise your thank you cards as much as you can, to make the experience unique to that customer. You can do this by leaving a blank space on one side and filling in customers' names just before you send out their packages.
2. Make a Handwritten Proof – If you have a font that you usually use for your business, including this on your thank you card will help carry your brand through everything you do. However, your handwriting will humanise your brand and make any thank yous seem a lot more special. All you need to do is write out a standard thank you message to your customers, which can be copied and reprinted as many times as you need.
3. Add Imagery – A splash of colour on your personalised thank you cards enhances the experience and adds to your professionalism. Relevant imagery will solidify your niche and encourage your customer to hold onto their thank you cards, should they ever need them to contact you.
4. Use the Best Paper – Thank you cards may be small, but this is not the time to be frugal. If you've worked so hard on what to say and show on your thank you card, you need a paper that will match this high standard. Branding doesn't end with the words on your thank you card, so you need to select the type of paper that will make colours and fonts pop.
5. Don't Keep Them for Product Purchases – You can send a thank you note to your customers at any time, even if they haven't purchased a product. A bespoke card by professional designer is a great choice to thank your most loyal and long-time customers and let them know just how much you value their custom. Perhaps you could even use the thank you card to offer them a unique discount, alongside your gratitude.
Why Enlist the Help of a Professional Printing Service?
A professional printing service is excellent for creating the best business cards. Not only does professional printing provide you with excellent visuals and long-lasting full colour options, but you can also order thank you cards in bulk and save a lot of time and money. At Doxzoo, we'll help you select the best paper and printing package for your needs, you can also check card templates and then we will do all the hard work for you. All you need to do is pop your cards personalised in the post, and bask in your small business's continued growth and success.
Check out our full range of services and special offers here, or if you have any questions about your first order, our expert team is always on hand to help. And we have a fast shipment options for all around to the United Kingdom.