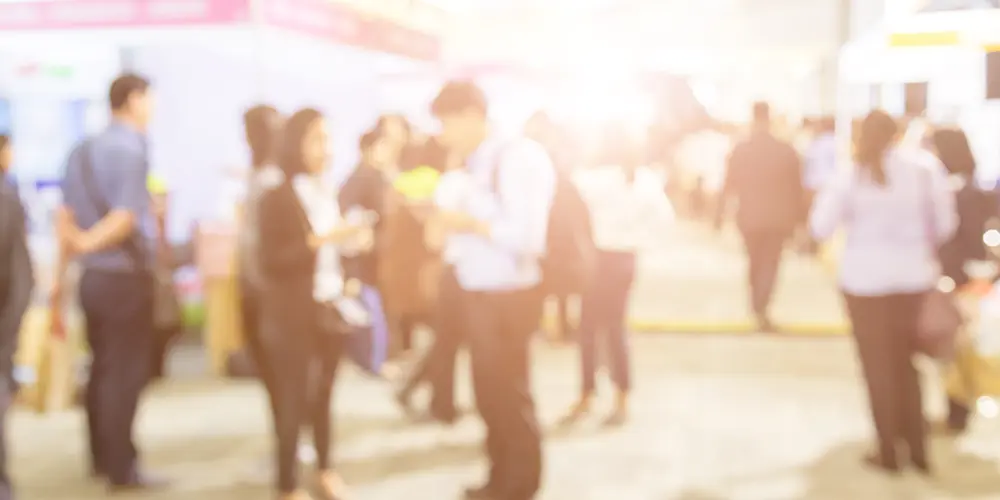 Table of Contents
Do you want to successfully present your product, service, or company as an exhibitor? Then a trade fair appearance is still very attractive.
By deciding to participate in a trade fair, you have already created an important prerequisite for ensuring the best visibility for yourself.
A well-planned and implemented appearance is therefore crucial for success. Don't make the same mistake as your competitors by drowning in the masses. These top five tips for trade fair exhibitors show you how to make your stand an eye-catcher.
1: Use several marketing measures during the fair
Even before the trade fair, you have already advertised your stand with posters, printed sufficient business cards, and arranged appointments with customers via LinkedIn. These measures in preparing for the trade fair are already the first prerequisites for a well-attended trade fair stand. You have also informed yourself fundamentally about the situation on-site. You know where your stand is and which companies are represented with stands in your vicinity. You know the conditions on-site and can already take this knowledge into account when planning your trade fair appearance. You have taken several measures in advance – and this should continue during the fair.
In the large gathering of professionals and experts in your field, there is a great opportunity to draw attention to your product, service or company. But what use is a trade fair presence if you have no visitors at your stand? Therefore, meet people where they are: For example, hand out flyers at the entrance or a striking and witty gift, the other half of which can only be obtained at the stand. This can be a sticker for a giveaway that you distribute at the stand.
You should also have a presence in the exhibition halls and draw attention to yourself – both in person and through various advertising media. However, always discuss all marketing measures on-site with the trade fair organiser. You will attract trade fair visitors if your marketing is striking and clear. It should be immediately obvious what you are about, while the company name is of secondary importance. Approach visitors at the stand itself and do not wait for them to come to you. Avoid addressing them with "Can I help you?" as this is usually answered in the negative. It is better to go directly to your product. Friendliness and politeness pay off especially well. But an attractive stand also attracts visitors.
2: Visuality and professionalism are crucial for the trade fair stand
The location of the trade fair stand should already be carefully considered and the other trade fair exhibitors should be taken into account. The hippest exhibition hall may not be suitable for a tradition-conscious company. You want to stand out and not be overshadowed by the other exhibition stands. The following should apply to your trade fair stand: No stand like any other. This is your motto for having a trade fair stand that is a visitor magnet. The stand must catch the eye of the visitors. It is, therefore essential to make sure that the stand is individually designed for your company by an expert. Eye-catching is a must, but professionalism should not be neglected. Quality is therefore important and, in addition, interested parties should feel comfortable at your stand.
When it comes to the trade fair stand, it is important to ensure that it reflects the image of your company. The value of your appearance should therefore reflect the professionalism of your company – in order to get your message across authentically. It should be avoided at all costs to produce the stand yourself. This task belongs in the hands of professionals. A well-designed exhibition wall is the be-all and end-all for your stand and the gateway for your customers and business partners. For example, Doxzoo prints signs, banners, flags and roll-ups to customise your stand. Your trade fair counter, as well as illuminated columns and illuminated signs, also lend visuality to your trade fair presence. But in order to leave a lasting impression, your visit must be turned into an experience through a unique supporting programme.
3: Convince with an unusual supporting programme
You have an attractive stand and have done enough marketing for your product or service. The visitors come to your stand and are interested. Now it is time to convince the visitor. With a well-prepared supporting programme, you will leave a lasting impression on the trade fair visitors. Presenting a product live is always more impressive than simply displaying information material about it. So offer demonstrations or shows for the visitors. This is the best way to show off your product. Informative presentations also add value for potential customers. Recruit experts in your field for exciting presentations or prepare a convincing supporting programme yourself within the company.
Product innovations are, of course, particularly interesting for trade fair visitors. If you are launching a new product, your trade fair is the ideal time to introduce it. You can further build excitement about the product by presenting your novelty only veiled at your stand until the presentation. In this way, you arouse curiosity and trade fair visitors may return to your stand when the novelty is unveiled. In any case, it is advisable to draw attention to the supporting programme with flyers and posters. The exact times should, of course, be included in the information material. Here, too, the rule is to clarify what it is all about. Make it as clear as possible that you have an extraordinary social programme. Even if you have a raffle or voucher, this is a good reason to attract visitors' attention. If you can attract visitors to your stand, you have already aroused their interest. Now it's up to your staff.
4. Well-trained and friendly staff at your fair counter
Even the phrase used to address trade fair visitors can be wrong. "Can I help you?" is not the best choice for starting a conversation. It is therefore important that your trade fair staff are well prepared in advance to avoid mistakes and do better than your competitors. You should ensure that the staff on the exhibition stands have a high level of professional competence, because after all, the exhibition staff is presenting the company. So training before a trade fair is essential. Your staff should know all the details about the products and services and the company. In addition, staff training and a competitive analysis should provide extensive knowledge about the competition. A sound technical knowledge is a prerequisite for a trade fair talk, but soft factors should not be underestimated either.
Would you go first to a trade fair counter with a bad-tempered company representative sitting withdrawn behind it? Probably not. Fair visitors are more likely to show interest if the staff at the stand are friendly and dynamic, approach people and are authentically in a good mood. Hiding behind the trade fair counter is therefore not a solution, but it can be used as a conversation starter. Your product or your information material has attracted the trade fair visitors? Then go straight into it or mention in a humorous way that the visitor is surely only visiting the fair because of your product. A smile works wonders with such introductions. In the further course of the conversation, your staff will also pay attention to friendliness and forms of etiquette. In any case, you should not have several conversations at the same time. A distribution of tasks among the staff at the stand is therefore recommended, as no interested visitor should be left standing either. Your stand should therefore contain enough interesting material to keep visitors occupied for a moment even without conversation.
5. Trade fair exhibitors should leave a lasting impression
The visitor must feel comfortable at your stand. In addition to an attractive stand, individual supporting programme and friendly staff, there are other tips on how to leave a lasting impression on trade fair visitors. In any case, offer small snacks and drinks at your trade fair counter. Especially during longer conversations, visitors feel more comfortable if they are looked after a little. Of course, there will also be plenty of information material at your stand: Whether brochures, catalogues or business cards. Doxzoo offers a variety of printed products that will help you stay in the minds of visitors to the fair. Some information material is available at the trade fair counter for visitors who don't want to have a conversation but still want to get information.
Brochures and catalogues from a particular company are deliberately picked up, while writing pads, for example, serve as a practical aid in everyday life. Calendars and sticky notes with your company name also have a lasting effect after the trade fair. Giveaways are the classics at every trade fair. You should stand out with them and have your giveaways printed by professionals. Doxzoo also prints folders, books and multimedia. In any case, your visitors should not leave your stand empty-handed if you have already done a good job of convincing them. You can always leave a lasting impression with practical giveaways.
Having a successful stand is no great feat, but some tips should be followed. These tips will provide you with an indispensable guide for trade fair exhibitors. If you take these 5 tips to heart, you will be an eye-catcher at every trade fair.