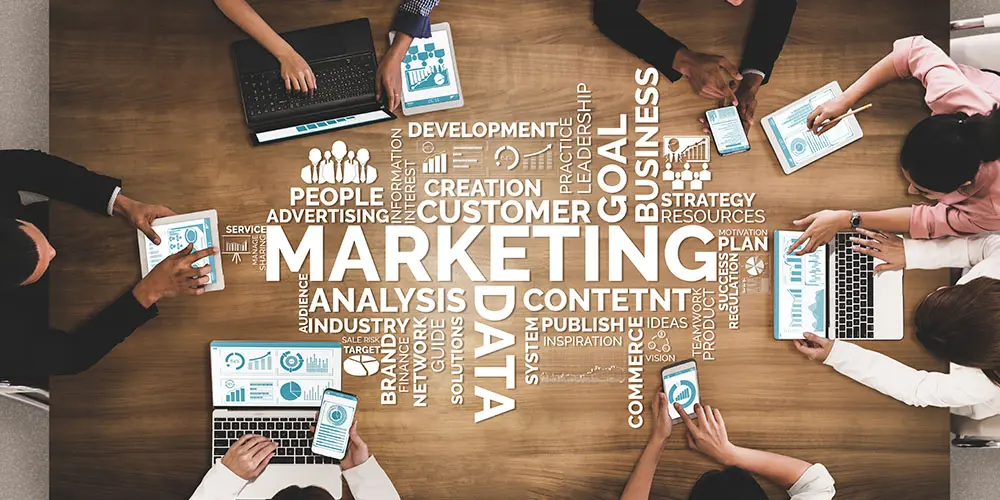 Table of Contents
Long-term successful marketing is based on knowing the customer's characteristics, preferences, and needs. But how do you avoid mere speculation? The answer is: through customer analysis. A business strategy without the most accurate knowledge of current and intended target groups quickly becomes a guessing game. Entrepreneurial risk can never be avoided entirely, but strategic marketing is difficult without customer analysis.
Focus, image and turnover
Motives and paths that lead a prospective customer to your company and keep him as a customer can differ. If you try to satisfy all possible customer groups and interests similarly, you risk getting bogged down: Everybody's darling is nobody's friend. So to sharpen your company's profile, you need knowledge about the behaviour and importance of your different customer groups.
Focus: Which of your products and services are most important to which customers? Especially in companies with an extensive range of products and offers, you need to be able to separate the slow sellers from the cash cows. You can focus on the cash cows and reduce the slow sellers.
Image: What image and what expectations motivate your customers? Is it price sensitivity or service standards, the quality of personal contact, or the choice of options that is decisive? What image do customers have of your company, and which feature do they particularly trust?
Turnover relevance: On which pasture do your cash cows stand? Are there advantageous customer groups, while others are more costly than profitable? In which areas are the acquisition costs of new customers particularly profitable, and what do these premium customers have in common?
The right question is crucial
It is not a matter of aimlessly gathering more information. Before each analysis, a question must be formulated because, in the end, you can only find what you are looking for. Of course, you can conduct several analyses in different areas, but each approach must have a clear goal. Asking about the turnover relevance of other customer groups requires a different approach than determining customer satisfaction. Quantitative statistical methods stand next to qualitative communicative approaches.
Customer analysis means sorting, classifying and evaluating. Information in itself is of no use at all. The decisive step is to group the results. This grouping is a strategic decision. When collecting data, you are guided by the real circumstances; the segmentation results from the question. However, the goal is always to divide the customers into groups with the same or similar characteristics.
ABC customer analysis
This business method of segmentation goes back to H. Ford Dickie, a manager at General Electric. It is still widely used today and has been in use since 1951. It is primarily used to increase sales.
The area under investigation is divided into three groups – A, B or C. The focus is on sales-boosting segments. The focus is on factors that increase or decrease turnover. For example, you can determine with which customers you make the most turnover. A distinction is made here between:
Ideally, a company should aim for a Pareto distribution of 80/20: 20 % of the customers generate 80 % of the turnover. In practice, however, this distribution is rarely achieved. Other areas of application of an ABC segmentation can be suppliers (purchasing volume), warehousing (access frequency), products (sales figures, turnover) and other data relevant to business management.
The advantages of ABC analysis lie in its relative simplicity and flexible application possibilities. It helps separate the essential from the unessential and quickly identifies growth drivers and obstacles.
The disadvantages are everywhere when one wants to go more in-depth analytically. Subjective customer satisfaction, development trends, and future potential are difficult to determine.
Customer Lifetime Value (CLV)
The CLV method looks to the future and can help with investment decisions regarding new customer acquisition. A CLV analysis is not about the actual state but the presumed value of potential customers or customer groups for the company. Two calculations are compared:
The sum of all the costs of developing the customer would entail personnel, materials, travel and advertising costs, trade fairs, etc.
The profits that can be expected from a business relationship with this customer or in this market at best, for example, over the next ten years.
Customer satisfaction
The subjective satisfaction of your customers can only be determined to a limited extent by looking at the figures. Nevertheless, analysing specific key figures can indicate where a targeted qualitative customer survey could start. However, the prerequisite is to avoid misleading snapshots and collect the relevant information over a more extended period. The following questions can help to determine customer satisfaction or dissatisfaction:
How much turnover do you make with your regular customers?
How many of your new customers come from referrals from old or existing customers?
How many complaints do you receive?
How long, on average, does a customer stay with the company?
The reasons for a negative development may be more complex than mere dissatisfaction. However, evaluating such information points to the points where detailed analysis and further enquiries might be urgently advised.
Specifics of customer analysis in B2B
The bad news: B2B markets and decision-making processes are more complex, and their analysis may be more costly. The good news: Due to the particular circumstances of a B2B business, it may be easier to get the necessary information for meaningful customer analysis.
Complicating factors:
Unclear decision-making structures. Apart from items like staples or notepads, B2B customer businesses involve multiple levels and groups of people. From the board of directors to the development engineer, different considerations play a role. A B2B customer analysis must ask itself whose motivation is decisive for the issue.
B2B products are more complex and often customised. There are markets in which the exact same product is rarely sold twice. Technical systems have to be integrated into existing structures. Against this background, finding generally valid statements on product marketing issues in customer analysis can be difficult.
Target groups are more minor. The success of B2B companies usually depends on fewer customers than in the B2C sector. This limits the amount of information you can obtain from your customers. A statistical database of thousands of customers, theoretically possible in many B2C areas, is usually unavailable in a B2B customer analysis. More than two or three market segments can rarely be captured.
Favourable factors:
B2B customer relationships are long-term. Most companies want to work with a supplier or service partner over a more extended period. Customer service and joint roadmaps play a more significant role. So it is easier for a customer analysis to collect information continuously and capture development trends.
Personal contacts are essential. This advantage carries particular weight. B2B suppliers often maintain loyal, long-standing personal connections. You have a considerable advantage over B2C sellers: you can ask your customers straightforward questions and hope to get honest answers. A trustworthy survey among regular customers is often the best B2B customer analysis.
B2B buyers are more "rational". Of course, the purely rational buyer does not exist in the B2B sector either. Emotional assessments always play a certain role. Nevertheless, impulse buying is rare. Each person involved has to justify their decision within the company; in many cases, technical specifications and constraints determine a decision. It is less about "needs" and more about necessities. This facilitates B2B customer analysis, making identifying and recording rational factors easier.
Where does the database come from?
A well-maintained database is a minimum requirement for meaningful customer analysis. Every company is freely supplied with a flood of valuable data. Collecting and evaluating it is important – at best, with good CRM software. Unfortunately, the database of many SMEs is limited to a more or less up-to-date address file that is used at most once a year to send out Christmas cards.
But every interaction with customers and prospects can bring a wealth of important information. Company size, turnover, locations, number of employees, frequency of contacts, complaints, repeat orders, service contacts – all this information should be recorded quasi-automatically. But the purely statistical figures can be supplemented by valuable qualitative statements. Why not have your field staff create short reports on the progress of an enquiry or a new contact?
A meaningful database is essential for your customer analysis
In addition, you need to collect customer feedback. Actively soliciting and dealing with customer feedback is a supreme discipline for knowing your customers. Conduct surveys with your customers. Dare to let customers evaluate completed sales processes. Ask them.
Be open about your need for information. Most B2B customers will be happy to help you. After all, your most valuable customers will benefit most from your customer analysis.
Conclusion: B2B companies have a qualitative advantage
In a B2B customer analysis, quality beats quantity – especially in medium-sized businesses. The aggravating factors are more than compensated for by the favourable characteristics in the B2B sector. Long-term, personal contacts and rational requirement profiles do not allow for a statistical flood of data. Still, they do offer the chance of a qualitatively detailed knowledge of the customers. What is decisive are the consequences that result from a customer analysis. Weighing does not make the cow fat, or: An analysis with no strategic consequences was pointless. Think about what you want to know. Collect and maintain information over a sufficiently long period. Act based on the new knowledge.