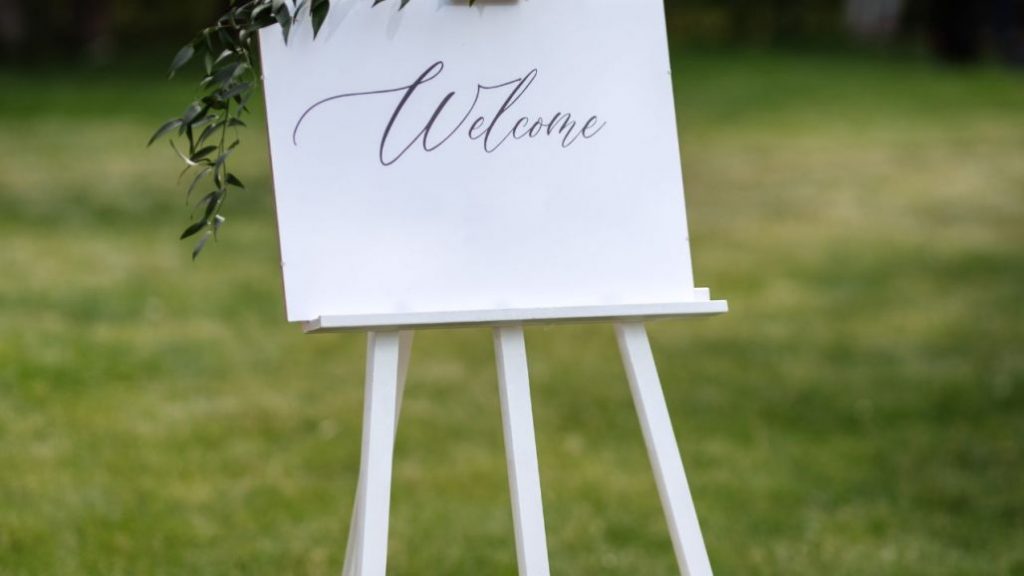 Any signage is good for pointing to directions, promoting a brand, or providing guests entertainment.
Why is event signage necessary?
In all likelihood, you will need at least a sign or two, no matter what kind of event it is. Smaller events will require less signage than larger conferences as well as festivals.
These are just some of the areas where signage is typically needed at an event:
Admissions
Registration area
Queues
Catering
Toilets
Stages
Information points
Mobile phone charging stations
Smoking areas
Exits
Event signage
Guests always appreciate directional signage.
Considerations for event signage
Because there are different types of events, the requirements for event signage are also different.
Here are some things to consider for your event:
1. What is the purpose of the event?
The purpose of the event will mainly determine what signage is needed. For example, a business conference will need signage from a sponsor, while a fundraiser will need signage promoting the charitable cause.
2. Where will the event be held?
Whether the event will be held indoors or outdoors (or both) because the location will determine what type of signage materials are needed, this is because outdoor signage needs to be durable and waterproof.
3. When can the exhibition venue be entered?
It's excellent if access to the exhibition site is granted beforehand and the signs can be put up in advance. But if this is not an option, then ask for a map of the exhibition site so that you can plan where the signs can be placed on the day of the event.
4. Who will be attending?
Better think about visitors when planning an event. This also applies to signage. If business customers are invited, they should be excited about the brand. If the press is invited, they will need all the information.
5. How long will the event last?
If a festival, business conference or trade show is being held, it will probably last more than just one day. In such a case, digital displays, such as the daily programme, should be considered, as information can be updated frequently.
6. Is your event recurring?
For multi-day events, you should consider whether you will organise and participate in a similar event in the future. If so, it may pay to invest in durable signage that will stand the test of time.
7. Is it a shared venue?
Conferences often occur in shared locations where everyone competes for attention. If you are sharing exhibition space with others, it is crucial to focus on signage that will help you stand out from the rest.
Types of signages
Now you have an idea of what you need, and it is time to look at the different types of signage.
1. Hanging banners
A hanging banner is one of the most effective types of signage you can use. This is because they are available in durable and waterproof vinyl and are cheap to boot.
2. Banner frame
However, a banner rack is best if you can't hang banners. They are portable, easy to set up, and can be transported from one event to another.
3. Floor graphics
Floor graphics can be another enhancement to your event. They are also a great solution to guide event visitors with directions to the essential places of an event.
4. Table signs
Without a lot of space, why not use the furniture as signage? Table signs are just great for weddings as well as conference registration tables. But branded covers are also a good alternative.
5. Hanging ceiling display
How often do people look straight up at the ceiling? Well, as long as there is a huge ceiling display with a particular brand message above the visitors' heads, they will certainly look up.
6. Digital signs
After all, we've already talked about digital signage in this article and for a good reason. They are costly but impressive nonetheless and can also be used for any occasion.
7. Exhibition stand
Exhibition stands are a great way to use corners and usually get attention.
8. Backdrops
You'll probably have seen some impressive backdrops. Not only are they great for a music event, but they also serve promotional purposes.
9. Vinyl foils
Anything can be turned into a sign using vinyl. You've probably seen a vehicle covered in vinyl, and they can be used on any smooth surface you can imagine.
10. A-Frame
If you want something less wobbly, like a banner frame, try the A-frames. They always look good and it also provides plenty of space for important information.
11. Projection
If you can't print on walls and furniture and don't have the budget for a digital display, get yourself a projector. All you need is a large surface such as a wall, floor or wall.
There is a lot of room for creativity regarding event signage. Absolutely anything can be turned into a sign with a bit of imagination and experimentation.
Do you have the experience you would like to share with other event organisers? Please leave us your ideas in the comments below!