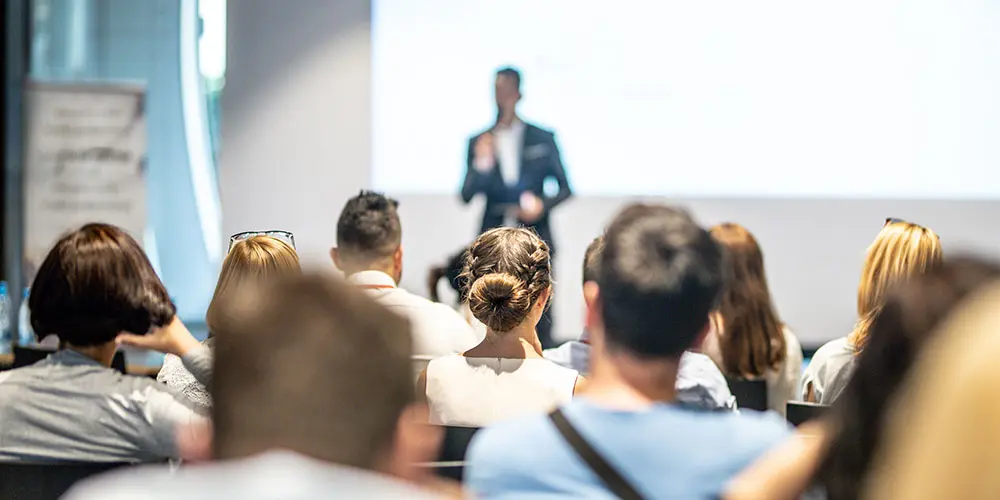 Table of Contents
Digitalisation in the B2B sector is advancing unhindered. But some stages in sales cannot do without the "human" factor. The sales pitch is one such stage. Across industries, it can provide the central impulse that turns the prospect or customer into a buyer. All sales staff should therefore know exactly the essentials of a successful sales talk. The theoretical knowledge is then turned into practical success. You can put your sales talks on the road to success with the following ten tips.
The basic principle of argumentation in a sales talk
Even the Greek philosophers and Roman orators were concerned with rhetoric. The manner of argumentation, as well as the assessment of the counterpart, played an important role. Socrates coined the term maieutics, the "art of midwifery": Here, one person helps the other to gain knowledge by asking the right questions. With their help, the other person finds the solution himself. Transferred to the modern sales talk, the salesperson gives the prospective customer the necessary questions to convince himself or herself of the product on offer through his or her reflections.
If you want, you can base your strategic orientation in sales on Asian masterminds. For example, the Chinese general and philosopher Sun Tzu are often quoted in marketing. His work, "The Art of War", still offers numerous pieces of wisdom that can easily be applied to the sales pitch. One of his central statements is: "He will win. Who knows when to fight and when not to." Even if it seems a bit martial, this quote can be your incentive for the next sales talk. After all, every salesperson should know the importance of their efforts to the conversation's success.
Modern advertising psychology can be applied to the sales talk with a different approach. With the well-known "AIDA" formula, the sales-promoting quality of the conversation can be converted into an effect principle. Ultimately, the conversation should first attract the potential buyer's attention (A for attraction). This should arouse his Interest (I for Interest). This Interest should lead to a desire to buy (D for Desire), which finally leads to purchase (A for Action).
Regardless of which approach the sales talk is based on: It is always about a sender and a receiver as well as the message that is being conveyed. In between, there are many factors that influence success, such as emotions, information or preparation. In the following ten tips, the theoretical preliminary considerations briefly listed here are translated into practical recommendations for action.
1. Show a good mood
Every sales talk starts with your attitude. This is not about an artificially imposed good mood, but about an actual internalised, positive basic mood. You will come across better to the customer in a sales talk if you yourself are in a good mood. In everyday life, people often talk about an "infectious good mood". Therefore, try to put yourself in a good mood before the sales talk. This can be trained. For example, think of a particularly nice moment with your family or friends. Perhaps it was your last visit to the stadium? Recall these moments – until your general mood is positive. You will notice how you have become genuinely curious about your customers and feel like making the upcoming sales call.
A positive attitude will help you in the sales talk to inspire your customers and convince them of the product.
2. Selling emotions
Every customer not only buys the product, but also the emotions that you convey and arouse in them. With your positive basic attitude, you already create the best prerequisite for evoking emotions. Remain authentic in the conversation. In this way, your positive mood will have an even greater effect on the emotions of your counterpart.
3. Create a good first impression
Every sales conversation has two crucial moments: The first meeting and the last impression. The first few seconds of contact with the customer determine whether you come across as likeable and confidence-inspiring. This in turn determines how much attention you will get.
Be open and actively approach your customer.
Pay attention to your body language so that you appear convincing.
Look your counterpart directly in the eye when you speak to each other.
Make sure you have a well-groomed appearance. This does not necessarily have to be a suit and tie, but neat clothing will show a certain respect for the person you are talking to.
Maintain your determination and commitment to your appearance, especially at the end of the conversation. The more determined and authoritative you appear, the more likely you are to be remembered in a positive and lasting way which helps you to inspire your customers and convince them of the product during the sales talk.
4. Let facial expressions speak for themselves
Our ancestors could already tell from the facial expressions of others whether they were dealing with an enemy or a person who was well-disposed towards them. We still use this almost instinctive behaviour today when we meet people.
Let your facial expressions match your words. When you say, "I am happy about our meeting today," your eyes and the corners of your mouth should express the same.
Keep your facial expressions in check if you are critical of something your client says.
Never show boredom in the conversation.
If you have already been able to establish a positive basic attitude at the beginning of the conversation through your own techniques, it will be easier for you to display authentic facial expressions.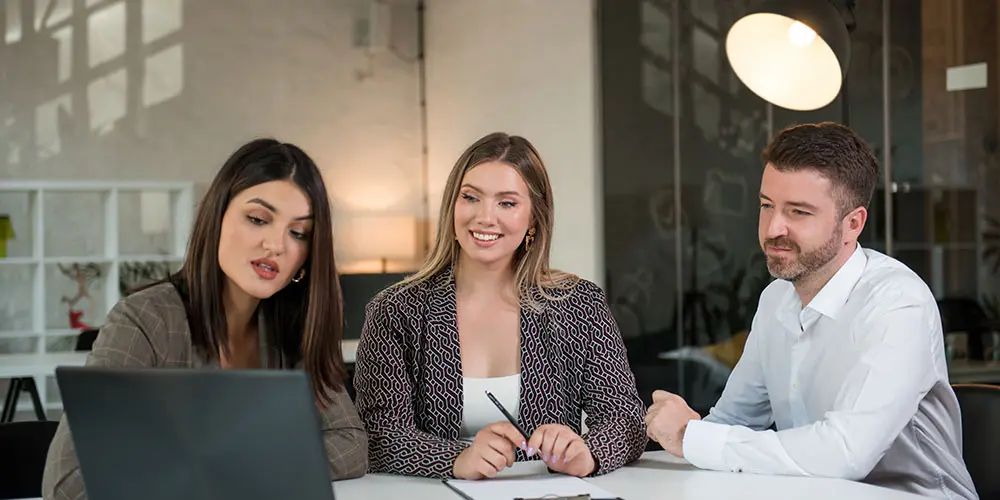 5. Show empathy
Observe your counterpart closely from the beginning of the conversation. Pay attention to their body language as well as their verbal language.
Body language: What mood is your counterpart in? Is he in a good mood, relaxed or stressed? Is your client excited or inattentive?
Word language: Does your client speak softly or loudly, quickly or slowly? Does he choose elevated language or is he more "chummy"?
Try to adapt your body language and manner of speaking to your counterpart. Always maintain eye contact. Study the different personality types in advance. An analysis of the potential buyer will help you to tailor your behaviour to him or her.
6. Ask questions and pause
The basic rule applies in all communication situations: Asking questions shows Interest in the other person. Take advantage of this opportunity and ask questions yourself during the sales talk. In this way, you show direct Interest in your customer. At the same time, you can obtain useful information that positively influences your strategy in the conversation.
With open questions you gain information. Example: "Which CRM products have you worked with so far?"
With closed questions or alternative questions you can bring about decisions. Example: "Do you mainly want to save costs with your CRM software?"
With confirmation questions you can hedge your bets and avoid objections. Example: "You agree with these suggestions so far, don't you?"
Observe closely how your customer answers the questions. Is he hesitant or does his mood change? His reactions can be used to influence the further direction of the sales talk.
If you have already asked a lot of questions or explained a lot, keep silent for a while and give your customer space to think. The brain needs pauses, during which it processes the information it has gathered. At the same time, your words become more meaningful after a pause.
7. Relate benefits directly to the customer and emphasise strengths
In the sales talk, customers should learn about the specific benefits they will gain from the product on offer. Relate the benefits directly to the customer and formulate them accordingly.
8. Pay attention to the language
Talk as much as necessary in the sales talk, but as briefly as possible. No one likes to hear unnecessary generalisations. Avoid contradictions. Eliminate conjunctions such as "but" or "nevertheless" from your active use of language. Avoid the word "must" and imperatives. No one wants to be told what to do, and neither do your customers.
9. Sending implicit messages
You can use implicit messages to arouse your customer's desire to make a decision during the conversation. These messages assume the customer's positive commitment to buy.
10. React proactively to objections or a no
If a customer has an objection, it still expresses Interest. However, many salespeople shy away at first because they are afraid of criticism. Instead, deal with objections proactively and use them in your argumentation.
You can influence the frequency of objections yourself by repeatedly asking confirmation questions. For example, ask: "Do you agree?" or "Do you agree?". Confirmation is easily obtained by saying "I agree?" and nodding your head at the same time.
If the customer even responds with a "no" instead of an objection, this is not the end of the sales talk. Continue to be firm and decisive. You can "test" in advance whether the customer is ready to buy. In doing so, assume a commitment.
If you receive a no in this case, you still have the opportunity to clear up further concerns in the conversation.
If you still receive a no, react confidently and take it as such for the time being. Because in this case, you should leave a good last impression. On the one hand, this will give you a better feeling yourself, and on the other hand, you usually see each other twice in life. Maybe the customer will come back to you at a later date. Precisely because he or she has remembered a good last impression of you.
Conclusion
The same applies to sales talks as to so many other things in life: Practice makes perfect. We have all heard this sentence many times and it may sound a bit banal at first. But in the end, it applies unreservedly to sales talks. The more often you find yourself in a concrete sales situation, the more confidently and intuitively you can act. The best prerequisites for a successful conversation! So do not despair if a sales talk does not initially achieve the desired success. Doxzoo can help you to create your presentation materials.