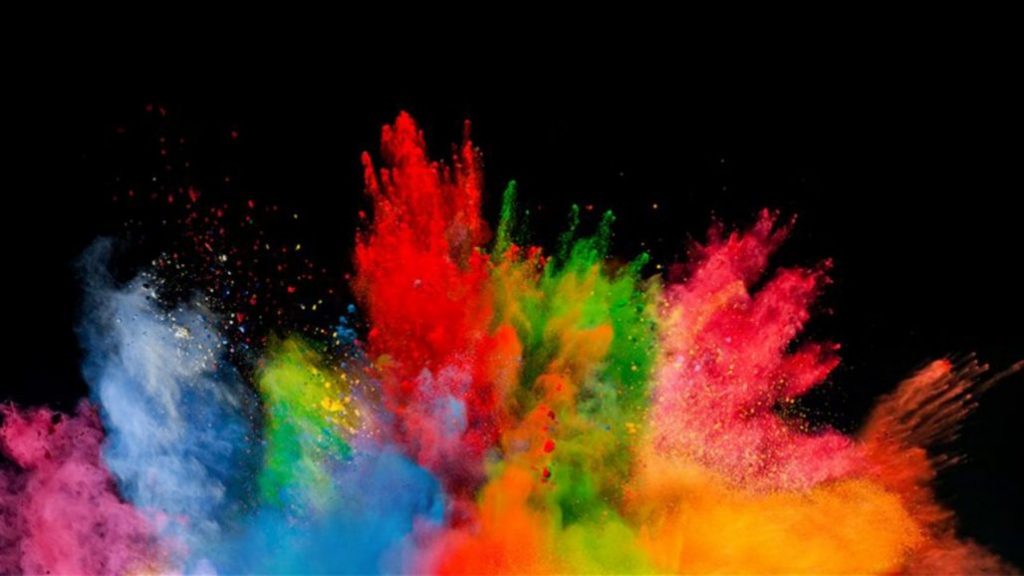 What would the world be like without colours? Probably pretty boring! They accompany us daily through our daily lives – on signs, everyday objects, clothing and much more. They attract our attention and generate emotions.
Which colour stands for what?
Each colour sends its signals and conveys a special meaning. They influence our subconscious and create feelings and moods. Use these characteristics specifically for branding and advertising and learn from the greats in the industry.
Blue – Trust and authority
Natural associations: Sea, sky, depth (ocean), expanse (horizon), Intelligence
Positive effect: credible, consistent, profound, professional, honest, innovative, reliable, refreshing, creative, harmonious, truthful, confidence
Negative effect: cool, distant
In marketing, the colour blue conveys authority, stability, security, progress and creativity. It is one of the business colours and is often used by banks, insurance companies, telecommunications, and technical and pharmaceutical companies.
On the other hand, if you want to convey trust and transparency with your corporate identity, the colour blue is undoubtedly a good choice.
Red – signal and attention
Natural associations: Love, fire, blood, danger
Positive effects: strong, vital, active, dynamic, warm, passionate, self-confident, energy, speed, eroticism
Negative effects: loud, dangerous, aggressive, arrogant, angry, mistakes
The colour red signals urgency and is highly attention-grabbing. It is, therefore, the first choice for promotions and discounts. Due to its strong meaning, it is suitable for any danger indication. Furthermore, red has an appetising effect and is very often used in the food industry. It is also a good choice for emergency services, dating, media or fashion advertising concepts.
Green – nature and balance
Natural associations: Nature, growth, abundance, spring, hope.
Positive effects: natural, happy, harmonious, relaxed, regenerating, fertile, safe, balanced, recreation
Negative effects: envy, poison
Colour psychology In marketing, green is the epitome of freshness, health, environmental awareness, authority, endurance and sustainability. Due to its highly positive aura, it is often used in tourism, the health sector and the food industry, for example, for organic products and sustainable production.
Yellow – optimism and good mood
Natural associations: Sun, warmth, light
Positive effects: optimistic, happy, good mood, light, curious, spontaneous, modern, bright, cheerful, dynamic, expectation
Negative effects: poisonous, greedy, stingy, danger
Bright and luminous yellow tones convey the feeling of summer, sun and cheerfulness. Furthermore, the meaning of the colour is often associated with the quality "cheap". In advertising, this signal effect is often used for call-to-actions. Especially in combination with red, yellow fits into any "stinginess is cool" strategy because it is perceived very quickly – even from a greater distance.
The colour yellow is recommended for products that should be handled with care (tools) or companies that offer a specific service. In addition, it unfolds its effect very well in energy, entertainment and all topics related to children.
Orange – vitality and joie de vivre
Natural associations: Warmth, maturity, exotic, joie de vivre.
Positive effects: vital, friendly, fruity, optimistic, the joy of life, stimulating, affordable, humour, energy, youth
Negative effects: danger (depending on the hue), loud, intrusive, cheap
Orange radiates more warmth than yellow but not as aggressively as red. In marketing, the colour is often associated with activity, liveliness and youth. In addition, the colour orange positively affects loss of appetite and depression and can therefore be used well in the food sector.
Purple – fashion and magic
Natural associations: Magic, luxury, religion, spirituality, esotericism
Positive effects: extraordinary, nostalgic, sensual, imaginative, creative, sovereign, dignified, fashionable, high standards, prosperity
Negative effects: vain, eccentric, aloof, scheming
Due to its uniqueness and rarity, the colour is often used for luxury items such as beauty and wellness products. Purple is a typical fashion colour, and its meaning is usually associated with femininity. But innovative and creative companies also use the colour. In comparison, however, violet is rarely used in advertising because its mystical character is usually tricky for companies to interpret.
Magenta/pink/pink – fascination and gentleness
Natural associations: Warmth, romance, femininity, innocence.
Positive effects: naive, gentle (pink), fascinating, devoted, joyful, dynamic, extraversion (pink/magenta)
Negative effects: kitschy, childish, intrusive (depending on the shade)
As a typical baby and girl colour, pink is very strongly associated with this target group. But the beauty and wellness industries also use pink and the stronger pink. On the other hand, technical companies rely on stronger shades of pink and magenta to generate strong attention and a high recognition value.
Brown – traditional and down-to-earth
Natural associations: Nature, earth, warmth, tradition
Positive effects: down-to-earth, warm, close to nature, natural, order, enjoyment
Negative effects: old-fashioned, dull, dirty, conservative
Brown is not one of the favourite colours of marketers and is of little importance in advertising. However, coffee, chocolate, pastries or leather products can be very well associated with the colour. In addition, brown creates a cosy, warm accent and conveys a feeling of tradition and permanence.
Black – elegance and dignity
Natural associations: Night, darkness, bad luck, mourning/death
Positive effects: elegant, profound, luxurious, mysterious, powerful, dignified, sophisticated
Negative effects: gloomy, sad, lonely, distant
The colour black is an absolute classic. On its own, it signifies elegance and seriousness. In combination with other colours, black achieves a lot of sensation. For example, it looks extremely noble in combination with yellow or gold. Technical companies like to use black in a variety of greens or violet. The strong contrast enhances the expressiveness of the colour.
White – purity and neutrality
Natural associations: Snow, ice, cold, light
Positive effects: simple, clear, pure, innocent, clean, neutral, perfect
Negative effects: sterile, cold, empty
The colour white alone does not create a clear brand identity. In combination with other colours, however, it can be used universally. In addition, it emphasises unique product characteristics such as purity and cleanliness, for example, in detergents. White is also preferred for the medical sector.
Grey – professionalism and objectivity
Natural associations: Technology, the colour of age, objectivity
Positive effects: neutral, modest, professional, discreet, elegant, modern, noble, conservative
Negative effects: lonely, sad, dreary, sterile, impersonal, emotionless
Grey is a typical business colour; it looks exquisite, professional and serious. Grey can be combined with any bright colour and underlines its presentation. The colour is particularly popular with high-tech companies. But grey can also be used for fashion, sports, entertainment and PR.
What is colour psychology?
Colour psychology deals with the effect of colours on the observer. In particular, their influence on the state of mind, thoughts and feelings.
Colours are attributed to different meanings in different cultures. For example, while in western countries, black stands for mourning, white is worn for funerals in China. South Africans, on the other hand, associate the colour red with mourning.
But there are also similarities. Red is generally perceived as warm, whereas blue is cold. Psychologists attribute this phenomenon to archetypal criteria. Thus red stands for fire, blue for the sky and green for fertility and peace.
And blue can do a lot. Studies in Scotland and Japan found that blue street lighting reduces crime and suicide rates. A Microsoft study in 2010 found that link text in a very dark shade of blue has been shown to increase click-through rates. Since then, the hue value #0044CC has been referred to as 80-million-dollar blue.
Green, on the other hand, increases creativity. This was found by Stephanie Lichtenfeld of the Ludwig Maximilian University of Munich in her 2012 study Fertile Green: Green Facilitates Creative Performance. This green effect was found in comparison to white and grey, as well as in red and blue.
Conclusion
The meaning of colours is firmly anchored in our subconscious. Colours, therefore, have a lasting influence on our thoughts and actions. They create emotions in both a positive and negative sense. Thus, the right choice of colours decides the success of company branding or marketing campaigns. This is an important reason to deal with it intensively because, in this way, you create exactly the right emotions.
For which projects do you specifically use colour psychology? In our online printing platform, you will find many great products to implement your marketing strategy. We are excited and look forward to your designs, feel free to write us a comment.