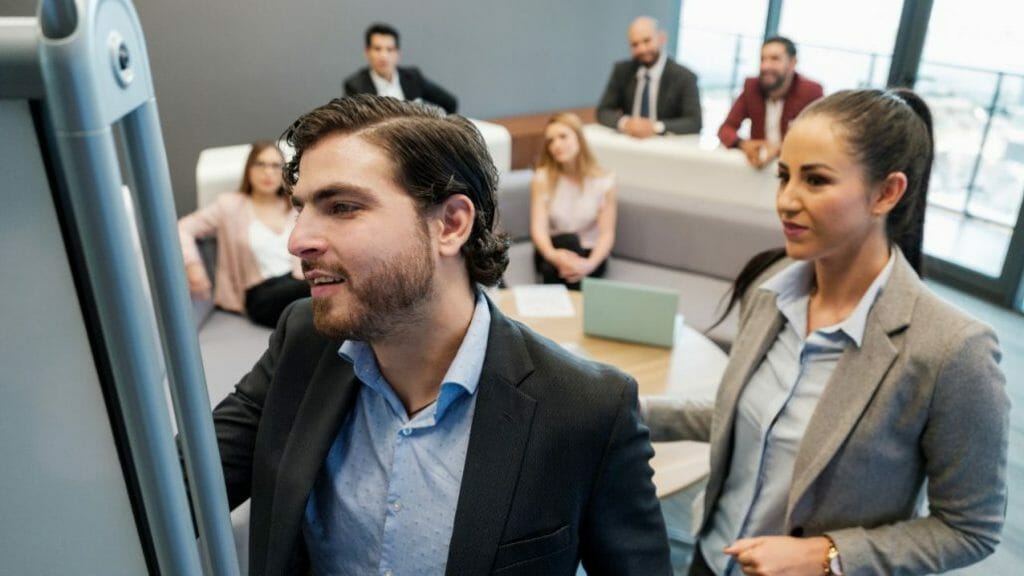 Not only do new hires benefit from training, but businesses also benefit greatly from training and human resource development. Many organisations previously viewed staff training primarily as a pure cost factor. And even today, employers hesitate and ask themselves whether this investment is worthwhile or how employee training affects their company's success.
In this article, you will learn how to keep your staff fit with employee training, what benefits it brings for you and your company and which training methods employers should know.
Why employee training is essential for companies
Qualified employees are a company's most valuable asset. Employees should keep their skills current is one of the most important ways they can do their job well and stay on top of changing demands of the workplace. Companies need to invest in training and development to achieve this.
We mentioned at the beginning that companies had lesser employee training programs on their agenda in the past. Nevertheless, even back then, companies invested in the training and development of their employees, and they took a different approach. As a rule, all the employees completed the same course on a specific topic.
In contrast, today, the focus is on individual training and development programmes tailored to employees' needs. Employees thus receive specific training based on their work, tasks and demands.
Creating customised employee training has another positive effect: it motivates and incentivises the team.
Overall, highly qualified employees contribute to a company's success and help the company stand out positively from the competition. The trained employees are more efficient and promote better product or service quality.
The most important benefits of employee training
Regular employee training brings significant medium and long-term benefits. The most important benefits of employee training include the following:
1. Developing an internal pool of skilled workers
Staff training not only improves the workforce but also promotes internal recruitment. Companies focusing on medium-term staff development plans, including training and development measures, can internally promote staff.
Commonly, companies focus on recruiting externally skilled workers. On the other hand, internal selection processes are more cost-effective, less time-consuming, and create a positive working environment in which the current workforce feels valued.
2. Retention and well-being through training
Training positively impacts employees because it gives them the impression that the company cares about their professional development and provides them with all the necessary tools. Staff training not only provides a motivational boost to employees but also encourages their engagement with the employer, which keeps employees with a business longer.
3. Improved productivity
Training takes away the fear of employees' weaknesses and in return, strengthens them. Over time, they find it easier to take ownership of their work and work more productively, which increases the company's overall performance.
Forms of professional training
Employers who want to start a training program must also decide how exactly they want to implement it.
In-house staff training
Internal staff training takes place in the workplace. These trainings are usually related to an employee's work and aim to provide them with new knowledge or necessary skills. Internal training usually involves teaching tools which are used in practice.
There is also the possibility of job rotation: employees gain insights into a different part of the company. In addition, employers can see how employees deal with various tasks and demands. This promotes teamwork and internal cooperation and enables the human resources department to fill positions at short notice in case of a staff shortage.
Off-site employee training
There is also a possibility of providing employee training outside of the premises. Courses are offered online or in off-site training centres, for example. The company commissions an external provider to train its employees in this case.
Anyone interested in this approach should also look at the many e-learning platforms such as Flow, Coursera, LinkedIn Learning or Udemy – these are just a few of the best-known online providers that offer numerous courses on a wide variety of topics.
Types of employee training
Employee training can take place in different ways. For a quick overview, we have compiled some of the most interesting ones here:
Face-to-face
This is probably one of the most conventional forms of teaching: A trainer in a training room presents a specific topic to his participants. Face-to-face training is very efficient and particularly suitable for complex topics. However, they are more expensive than other training measures.
E-learning: online courses and webinars
Online courses or e-learning takes place – as the names suggest – on the computer and often in the form of video courses. Employees are flexible in terms of time and can choose freely when and where they want to take a course. Online training sessions can be organised more quickly and cost-effectively and are used more frequently for training employees. Content can also be easily adapted to a company's requirements.
Virtual reality simulation
Training with virtual reality simulators is beneficial and effective in high-risk sectors such as medical or pilot training. During training, the simulations help employees learn about specific techniques or procedures or try out scenarios.
Peer learning: leadership and mentoring
Leadership and mentoring are where an employee works with an experienced professional to learn from them and benefit from their expertise. Employees thus share information, experience and practical advice with each other and exchange ideas. Leadership and mentoring can take place in person or online.
Peer learning: working groups
In this method, professionals with similar needs get together and learn together. They acquire the required knowledge or new skills through discussions and activities, usually led by a supervisor.
Self-study
Studies, reports and manuals can provide enough information to solve specific questions or problems. Employees have the opportunity, for example, to acquire the basic knowledge of an important topic on their own, i.e. at their own pace and according to their own capacity.
4 tips to improve staff training sessions
The following tips will help you ensure that your training programme or staff training concept has the desired impact on your organisation.
1. Identify training needs
The best training is always based on the needs of the employees. This means that it addresses their strengths and weaknesses and helps them to develop within the company.
HR managers should allocate sufficient time and resources to identify staff training needs to gather all the necessary information.
2. Identify skill levels
Not every employer knows what training their staff have completed or what areas they specialise in. It is important to clarify questions about this with employees in advance. Only then can the HR department successfully adapt the training plans to the level of the employees.
3. Selecting the right training venue
For in-house training, we must ensure a suitable room is available. This room should be large enough and adequately equipped, i.e. technical equipment such as a computer, projector and speakers or an internet connection should be available.
4. Use appealing training methods
For training to be successful, it should be designed appealingly and tailored to staff needs. This includes using appropriate teaching and learning methods that encourage staff to learn new things. Gamification is a technique used to convey dry content entertainingly and effectively. The participants take an active role, and the learning process is designed in a relaxed manner.
Doxzoo is ready to assist in printing all course materials. Such as badges, registration spreadsheets, schedules and handouts to make your training more beneficial to your company.
Please also check Placemat Printing and
Printing & Publishing For Religious Groups & Organisations